Since airing in Japan and the United States, Wolf's Rain has been released a few different times. Both Japan and the U.S.A treated the release of the series differently.
First Release
Edit
Region 1
Edit
The first release of the Wolf's Rain series in Region 1 was published by Bandai Entertainment. The first volume was released as a regular version and a limited edition. The limited edition came with everything the regular version did as well as a Kiba plushie, the Wolf's Rain Original Sound track, and an artbox to house the DVDs as they were released.
Volume #

Episodes

Release Date

Notes


1.Leader of the Pack

• City of Howls
• Toboe, Who Doesn't Howl
• Bad Fellow
• Scars in the Wasteland
• Fallen Wolves

July 6th, 2004

Limited Edition version released with a Kiba plushie, Wolf's Rain Soundtrack and artbox.


2.Blood and Flowers

• The Successors
• The Flower Maiden
• Song of Sleep
• Misgivings
• Moon's Doom

August 24th, 2004


3.Loss

• Vanishing Point
• Don't Make Me Blue
• Men's Lament
• The Fallen Keep

October 12th, 2004


4.Recollections

• Grey Wolf
• Dream Journey
• Scent of a Flower, Blood of a Wolf
• Men, Wolves, and the Book of the Moon

December 14th, 2004
Recap episodes


5.War for the Soul

• A Dream of an Oasis
• Consciously
• Battle's Red Glare
• Pieces of a Shooting Star

January 4th, 2005


6.Paradise and Poison

• Heartbeat of the Black City
• Scent of a Trap
• False Memories
• Moonlight Crucible

March 22th, 2005


7.Final Encounters

• Where the Soul Goes
• Gunshot of Remorse
• High Tide, High Time
• Wolf's Rain

May 24th, 2005
Re-releases
Edit
On November 22nd, 2005 Bandai released Wolf's Rain: Limited Complete Collection Box Set. The box set came with all previously released DVD volumes in a different artbox with a stand to house the box and collection.
The following year on July 25th, 2006 Bandai released the series again as a two part collection, Wolf's Rain Anime Legends Complete Collection and Wolf's Rain Anime Legends Complete Collection II. Both cases contained 4 DVDs and were housed in two separate cases.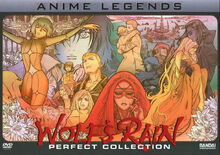 Three years later on May 5th, 2009 Bandai released another Anime Legends Complete Collection was released; this time in one box as Anime Legends Wolf's Rain Perfect Collection. The set contained no artbox and held 7 DVDs. Some of the episode titles were changed or re-translated for unknown reasons. This would be the last release of Wolf's Rain from Bandai.
The series was later bought and revived by Funimation in a Blu-ray/DVD combo pack. The combo pack was released as
Wolf's Rain the Complete Series
on February 7th, 2017 and housed a total of 9 discs. The combo pack came in a slipcase as well as a special case with page-like inlays for the DVD and Blu-ray discs.
Region 2 (Japan)
Edit
Released in Japan first, the Wolf's Rain series was released by Bandai Visual across 8 volumes, with each volume having a Japanese language track and no subtitles. The first pressing of the first volume included an A-2 sized cloth poster. The final four OVA episodes of the series were released in two additional volumes, each containing two episodes; for a total of ten DVD volumes.
Community content is available under
CC-BY-SA
unless otherwise noted.